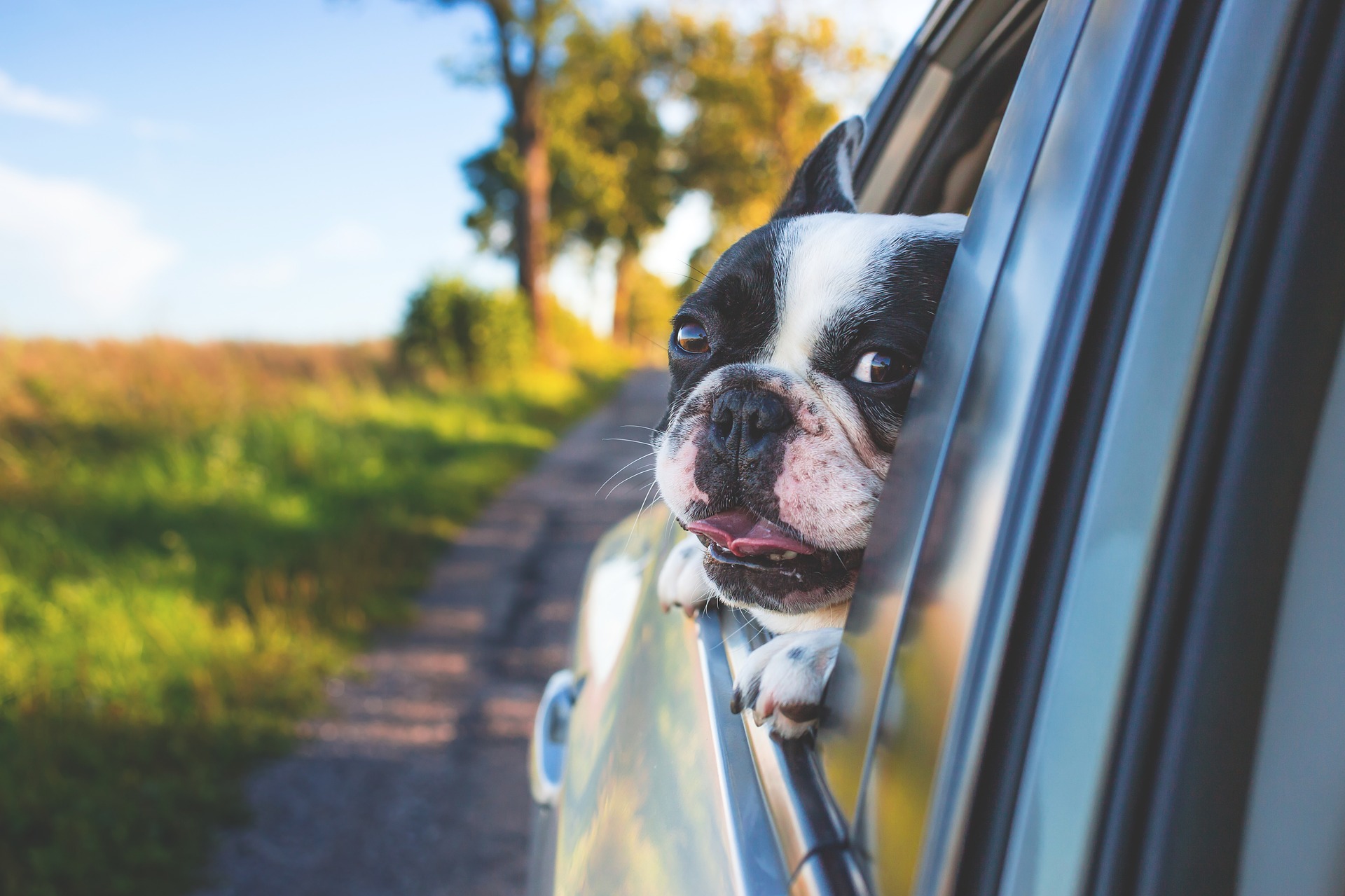 There's no denying that we are a nation of dog lovers. They are messy, jumpy, and downright chaotic at times, but despite their sins, we can't get enough of them!
Making sure your dog is safe and secure in your vehicle means that your furry friend can join you on your adventures, while also increasing the safety of everyone else in your group.
Here is a list of some of the pet-friendly car products on the market
Car Harness
The harness acts as a dog-friendly seatbelt making sure that your bouncy friends stay securely in their allocated seat or space. Most harnesses clip into the existing car seat receptacle and will fit onto your dog's collar or harness.
Find a product that suits you and your dog depending on your animal's tendencies. If you have a calm dog that is unlikely to try and jump around your car, then you can afford to have one of the lower-priced weaker options. But if your dog is a nervous pet, or one that likes to jump around, it is definitely worth investing in a stronger option.
Waterproof Car Seat Covers 
Even the most well trained and well-behaved canine companions can find themselves in all sorts of muddy puddles, rivers – or the dreaded rolling in other dogs' poop!
Investing in waterproof car seat covers means you can rest easy knowing that whatever your dog has rolled in, splashed in, or covered themselves in, you won't need to reupholster your interiors after every walk.
Dog Bed
Finding your pet a comfortable position to lay down in ensures that you can concentrate on your driving without unexpected attention from the backseat.
Installing a dog bed specifically for your car allows your pet to associate this particular bed with a car journey.
For nervous dogs, try bringing the bed into the house first, so that your pet is comfortable and feels safe in that specific bed. Once you transfer it to your car, learnt behaviours such as lying down and sitting down should then happen naturally!
Spill-Proof Bowl
We would not recommend having a food bowl in the back of your car at all times, but if you are planning a particularly long journey, have you thought about using spill-proof bowls so that your dog can help himself along the way?
Many of these come with suction cups so you can attach them to your vehicle and be sure they won't fall over whenever the car makes a sudden manoeuvre.
Portable Water Bottle
We all get thirsty during car journeys, especially when we get stuck in traffic, or on a particularly hot day. Your dog is exactly the same.
Making sure you have a portable water bowl or portable water bottle available ensures that your dog can stay hydrated along the way and be just as excited for your adventure as you are!
Calming Treats
With all the best will in the world and the best preparation for your journey, if you have a nervous dog who does not like to travel there will not be a lot you can do to comfort him.
When travelling on any journey, your priority needs to be on the road and keeping yourself and your family safe. There are many options on the market for calming treats that allow your dog to calm down enough to settle in the back seat or boot, so that you can all reach your destination safely.
Portable Air Conditioning
Imagine being stuck in traffic on the hottest day of the year and wearing a fur coat, unable to take it off.
That's what it is like for your dog. When you get too hot, you can unwind the windows, but a dog cannot just open the boot!
Expect the unexpected when planning your journey, and consider investing in a portable air conditioner for your pet.
Cooling Pad/Mat
There are many cooling mats on the market, available in a range of prices, qualities, and designs. These cooling mats are often filled with a gel that keeps your dog cool on those blistering summer days.
They are highly affordable and will ensure that your dog can regulate his temperature in the heat of your car.
Odour Eliminator
Let's face it we all know what wet dog smells like!
When your dog is in the car you expect dog smells, but when you have not got your furry friend in the car, it can be embarrassing to explain why your car smells of dog.
You can now buy odour eliminators designed specifically for your dog; these can be found in most pet shops, retail outlets, and online marketplaces.
Adjustable Dog Ramp
Depending on the size of your dog – or their age – you may want to invest in an adjustable dog ramp to allow your pet to safely enter your vehicle.
Not only do they give smaller dogs the freedom and independence to enter your car by themselves, they can also help older dogs who may struggle to jump in the back without assistance.
About Eclipse Autos
Eclipse Autos is Good Garage scheme approved auto workshop based in Bletchley, Milton Keynes. Some of the services Eclipse Autos offer include: car MOTs in Milton Keynes, motorbike MOT tests, car recovery, crash repair, clutch repair and car servicing.  This blog post was written by Alex at New Frontiers Marketing.