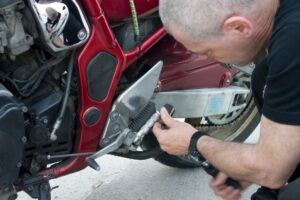 Eclipse employs a team of highly skilled motorbike mechanics that share a wealth of experience in repairing motorbikes and scooters throughout Bletchley and Milton Keynes.
The motorbike mechanics at our Bletchley workshop are skilled and hold the necessary qualifications that mean we are able to deliver all your motorcycle repair requirements, from servicing and motorbike MOTs to breakdown recovery, puncture repair, fault diagnostics and more.
As well as our leading motorcycle repair service, we also offer a delivery and collection service. This service is £55 + VAT to local motorcyclists and £35 + VAT if booked with servicing. If you live in London or surrounding areas and would like to utilise our high quality services, we can collect your precious bike or scooter from your city address, complete the necessary repairs and bring it back to you. We repair all the major motorbike brand names, including (but not limited to) Aprilia, Suzuki, Honda, Yamaha and Vespa.
Eclipse Autos Onestop is a leading provider of both car and motorbike repair services. The Eclipse team has worked tirelessly to build a reputation for high quality work. Whether your motorbike needs an annual service or a clutch repair Bletchley riders know that Eclipse can help keep them on two wheels. If you need motorcycle repairs and you live in or around Bletchley, Milton Keynes or further afield, we are confident we can supply the services you need.
Whether your engine is misfiring, your wheel alignment feels off or there is an issue with your motorbike that you cannot quite place, give us a call. Your safety cannot be compromised when riding a motorcycle. Please contact us today to discuss your requirements or to book your motorbike in for a service or check up.
Call us now to book your motorcycle servicing in Milton Keynes!
BRONZE Motorcycle Service – Up to 125cc
Includes:
Oil & Filter, Diff Oil Top Up, Chain Clean & Adjust, Bolt Security Check
Brake Operation & Inspection, Tyre Inspection & Pressure Check
Lighting Operation & Inspection, Clean Inspect Spark Plug
Excludes:
Spark plugs & air filter
Additional charges may apply for:
Engine oil over 1.0 litres
Fairing or tank removal during service
From £129.50 inc VAT
SILVER Motorcycle Service – Above 125cc
Includes:
Oil & Filter, Diff Oil Top Up, Chain Clean & Adjust, Bolt Security Check
Brake Operation & Inspection, Tyre Inspection & Pressure Check
Lighting Operation & Inspection, Clean Inspect Spark Plugs if Accessible
Excludes:
Spark plugs & air filter
Additional charges may apply for:
Engine oil over 2.0 litres
Fairing or tank removal during service
From £165.00 inc VAT