Eclipse Autos Onestop has been a motorbike MOT testing centre serving Bletchley, Milton Keynes for more than 10 years now. We understand that safety is paramount when travelling on the road. With motorcyclists at more risk of harm than motorists, we endeavour to ensure the highest standards of safety are met with all of our motorbike services.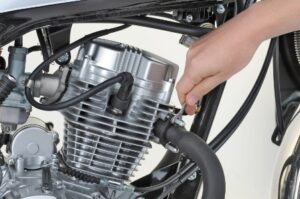 The Eclipse Motorcycle Services team ensure that every bike is tested thoroughly and any advisory notes raised during the testing process are explained in full, with advice on any relevant further steps. When it comes to motorbike MOT testing Bletchely motorcyclists can rest assured they have a reliable garage on hand to keep them safely riding, year in, year out.
We are proud to employ highly trained technicians who are passionate about bikes. We also understand the importance of having a safe, fully functioning motorbike, whether you use yours for commuting or simply for pleasure. With this in mind, we ensure that every single motorbike MOT test we undertake is carried out to the high standards set out by VOSA.
During a motorbike MOT test our technicians check a number of essential elements of your motorbike. These include: the seat, the number plates, the bike's frame and the footrests, the fuel system, horn, clutch lever and throttle, the bike's lights, its steering and suspension, the brakes, drive chain and sprocket, as well as the wheels and tyres. If you have a sidecar attached, we will also check that.
It is essential that each part of your motorbike is fitted properly and performs as well as it can. Our qualified MOT technicians have a keen eye for detail so you can be sure that your bike is in safe hands while it is with us. If you would like to book your motorbike in for an MOT test, please feel free to call us or fill out our contact form and one of our team will be in touch with you to organise your appointment.
Call us now to book a motorbike MOT in Milton Keynes!