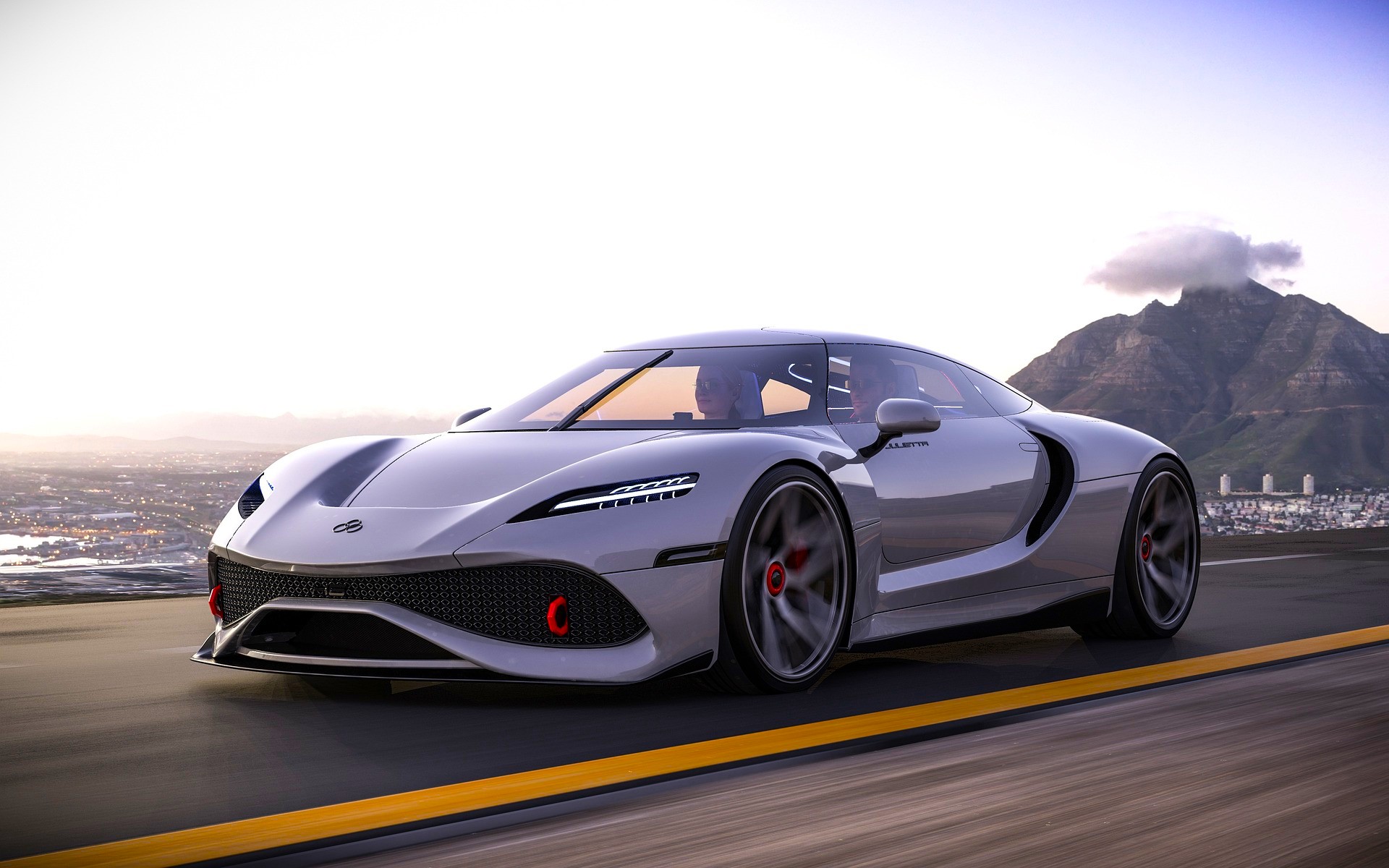 Got A Need For Speed? The Top 10 Holiday Destinations For Petrolheads
Speed limits have their place.
Statistics from the DTLR found that speeding is a major contributing factor in 1/3 of all road traffic accidents, killing an average of 1,200 people per year. And according to the Royal Society for the Prevention of Accidents, nine out of ten pedestrians are killed by a car travelling at 40 MPH, half of pedestrians are killed by a car travelling at 30 MPH, and nine out of ten pedestrians will survive a car travelling at 20 MPH.
But let's face it, nobody blows their bank account on a glamorous supercar just to crawl along at 20 MPH. We've all wanted to feel like an F1 driver at some point in our lives, but few of us have ever had the opportunity.
Thankfully, there are many spectacular holiday destinations around the globe with highways and motorways designed to accommodate high-speed limits with minimal risk to pedestrians and other road users.
So pack your bags, buckle up, and prepare for the drive of your life!
The Netherlands
With 61% of all motorways set at a 130 KMH (80MPH) speed limit – including the motorway between Holendrecht and Vinkeveen – the Netherlands is an excellent destination for high-speed drivers.
Dutch motorways feature remarkably clear road signs, making it safe and easy to drive at high speeds. Not only that, but it is a beautiful country, with vast fields of tulips, picturesque windmills, and an intricate canal system.
You can drive a vehicle with foreign number plates there for up to six months, so if you have a flashy car that you want to take for a spin, The Netherlands is a great place to start!
Hungary
In Hungary, you can drive at speeds of up to 130 KMH (80MPH) on the motorways, making it a great choice for petrolheads.
However, be careful not to get caught out! On dual carriageways, the speed limit is reduced to 110 KMH (68 MPH), 90 KMH (56 MPH) on open roads and, in urban areas, just 50 KMH (31 MPH). You may receive a fine if you exceed the limit, so it is still important to remain conscious of your speed.
Make sure you check out the Hungaroring for an unforgettable F1 experience. The Hungaroring is one of the most notoriously difficult F1 race tracks, with sharp corners and extreme downforces.
And bear in mind that Hungary in July is extremely hot! But conveniently, the Hungaroring is situated next to a waterpark, the Mogyorodi Aquarena vizi szorakoztatopark, and only 20 KM from Budapest, so you can cool off and then hit the town for a night out!
Montenegro
In Montenegro, you can legally travel along the highways at 130 KMH (80MPH) motorways at 100 KM/H (62MPH), and 80 KMH (50MPH) outside built-up areas. To drive in Montenegro, all you need is your full UK driving licence, V5, and proof of insurance – no International Driving Permit required!
Montenegro has everything you could want from an Eastern European destination. Flanked by the Adriatic Sea and dramatic mountain ranges, you have the choice of spending your days on one of its stunning beaches, sightseeing in small fishing villages, exploring its great lakes and grand canyons, or hiking through the depths of its dense, wild forests.
Wonderfully safe, and easily accessible by car, Montenegro is an idyllic introduction to Eastern Europe.
Slovenia
Similar to Hungary, the speed limit on motorways in Slovenia is set at 130 KMH (80MPH), 110 KMH (68MPH) on dual carriageways, 90 KMH (56MPH) outside populated areas, and 50 KMH (31 MPH) in populated areas.
With its dramatic landscape of Alpine mountains, seascapes, and Mediterranean-style terracotta rooftops, Slovenia is quite simply stunning.
Slovenia is easy to see by car, with roads well signposted, and in excellent condition. However, if you bring your own car, remember that you will need a vignette, proof of insurance, your driving licence, and an International Driving Permit.
For an extended road trip, you can easily cross from Slovenia into Hungary on the A1 motorway north of Maribor. The A1 continues as the M70 motorway in Hungary, leading to Budapest.
Italy Autostrade
The Autostrade gives you easy access to some of the most iconic locations in Italy, including Milano, Roma, Genova, Bologna, Napoli, Tuscany, Puglia and Firenze among others. And with a limit of 130KMH (80MPH) on major highways, and 110KMH (68MPH) outside urban areas, you have the freedom to cruise along at high speed. You can take your own car to Italy, provided you have your UK driving licence, V5, proof of insurance and breakdown cover.
And don't pass up visiting The Palladian Villas Of The Veneto while you are travelling! Designed by renowned architect Andrea Palladio, these exquisite 16th-century villas were built under the Venetian Republic, using influences from Greek and Roman architecture.
From the Autostrade, you can also easily visit the Amphitheater Campano in Santa Maria Capua Vetere. This ancient amphitheatre may have been the first to have been built by the Roman Empire, and is one of the largest, second only to the Colosseum.
The Campania Museum Complex also includes the mithraeum, an elaborate underground sanctuary dedicated to the god Mithras.
Austria
In 2018, there was a trial in which the speed limit in Austria was increased from 130KMH (80MPH) to 140KMH (87MPH). Although this trial has now ended, there is a possibility that the Austrian government may increase its speed limit in future years. Either way, the speed limit is still a fun 130KMH on motorways and highways across Austria.
Austria is a powerhouse of arts and culture, with an extensive history in opera, ballet, and architecture.
Built between 1861 and 1869, the Staatsoper Concert Hall is one of the finest opera and ballet houses in the world, featuring some of the greatest directors in history including Gustav Mahler, Richard Strauss, and Herbert von Karaja. Here, you can see busts of Beethoven, Schubert and Haydn, and take in the ambience at the luxurious tea rooms, set in 22-carat gold leaf.
Bulgaria
On Bulgaria's busy highways, you can easily travel at 120KMH (75MPH) in most areas, and in some parts of the highway, 'where the pavement allows', the speed limit is increased to up to 140KMH (87MPH). However, stay on the safe side a bit here – on more dangerous parts of the highway, the speed limit is just 90 KMH (56 MPH).
To take your own car, you will need your driving licence, all original ownership and registration documents, and evidence of insurance valid in Bulgaria.
From sun, sea, and sand along the Black Sea Coast, and the seaside resorts of Varna and Burgas, to the snow-capped Pirin mountains, and the timeless architecture and culture of Sofia, Bulgaria has it all. Whether you're searching for ancient Roman ruins, grand churches, or Ottoman mosques, you can find it all in Bulgaria, with its diverse culture and history.
There's plenty to do here, too! Sunny Beach is known for its bustling nightlife, with a reputation as The Best Party Destination In Bulgaria.
At Sunny Beach, you can enjoy the very best of local DJs from the seashore, with cocktails bars and discos just a short walk away.
Croatia Autocresta
While the legal speed limits in Croatia are set to 130 kmH (80 MPH), Croatian police tend to tolerate speeds up to 145 KMH (90 MPH), allowing you to put your foot down on the gas without needing to worry. And as long as you take your driving licence, V5, proof of insurance, and breakdown cover, you can take your own car, too!
Croatia has a distinct Mediterranean feel to it, with its crystalline turquoise waters, archaic Roman ruins, rocky limestone cliffs, and iconic terracotta-roofed villas. With baking hot summers in the coastal region averaging between 26-30 degrees Celsius, and cold winters ranging between -5-0 degrees Celsius in the mountainous regions, Croatia has everything from sun, sea, and sand to skiing holidays.
If you prefer hiking, the remote region of North Dalmatia is especially spectacular, with towering waterfalls and dense forests ready to be explored.
This region is home to three of Croatia's expansive national parks, which are left wild and untamed, and home to numerous species including wolves and bears.
Northern Territories, Australia
Due to the immense size of the Northern Territories, where you can drive for miles without seeing another car, many of the roads are free from speed limits. The Northern Territories are also largely flat, making it safe to drive at high speed.
Even in the restricted areas, drivers simply have to abide by the 138KMH (86MPH) speed limit, making it a great drive for petrolheads.
While there is a stereotype that the Northern Territories are largely too hot, dry, and mostly featureless, this couldn't be further from the case!
In fact, the Northern Territories are home to stunning waterfalls and swimming lagoons, towering rock features, and an abundance of exotic wildlife, ready and waiting to be discovered!
The Autobahn, Germany
If Australia is too far for you, why not try somewhere a little closer to home?
On the Autobahn, Germany, there are many stretches where you are free to drive your car at top speed without fear of being stopped by the German police. However – there are some areas of the Autobahn where there are speed restrictions, so always stay aware!
Just off the Autobahn, you can visit the Porsche factory, where you can experience the production process first-hand. And nearby, you can also visit the Porsche Museum, which covers around 5,600 square metres and features 80 exhibits, including rare and historical models. The museum includes a stock of 500 restored models, many of which are still suitable for driving!
And of course, there's no forgetting the historic Nürburgring, nicknamed 'The Green Hell', which is one of the most difficult tracks of the Grand Prix. Being 20.8km long on the North Loop, and 300m in elevation change between its highest and lowest points, the Nürburgring is one of the most challenging and dangerous tracks to drive.
If you want the ultimate driving challenge, you can sign up to drive it yourself!
Want to experience the perfect holiday for petrolheads? Visit these dream driving destinations and get ready to feel the rush!