Looking for an MOT Garage In Milton Keynes?
Do you need a reliable MOT garage in Bletchley, Milton Keynes? We all know that booking an MOT can be a tedious job. Going through garage after garage finding the best prices with a reliable service that you can go back to. Well you have found them. At Eclipse Auto Repairs Garage in Bletchley we can offer you amazing prices and one of the best MOT's in the area.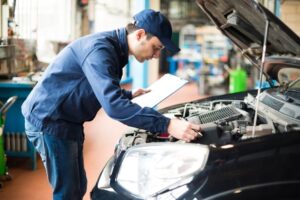 One of Milton Keynes most reliable car repair and MOT centres, we give you results that you can be happy with. We didn't become part of the Good Garage Scheme by giving a bad service.
You don't need to worry with Eclipse. As a reputable Milton Keynes MOT testing centre we strive for the best and so does our team of highly Qualified, skilled, honest and friendly mechanics. We have many returning customers year after year, getting the results you need and want to see from your car service.
Book an MOT in Milton Keynes from £30.00 NO VAT
Everyone is concerned when the word MOT failure, worried that it isn't going to pass even if you think your car is in a great condition. We do our very best to ensure that your car will pass. So take a breath of fresh air, have a cup of tea, we have got you covered.
No matter what we find during the car's MOT, if you didn't know about it, we will always give you a call wit a full price and explanation of the problem, before we do anything to ensure you know exactly how much it is going to cost in advance.
MOT Testing and Service Station in Bletchley, Milton Keynes. Check out the latest MOT Testing offers. You can now book your MOT online by clicking on the MOT book now links.
Exclusions: Non Stock Parts, High Cost Wipers, Oils or Bulbs, Fluid Over 0.5ltr
MOT (Gold Plus)
Includes a 10 days FREE retest.
Includes all minor repairs UP TO 10 MINS, i.e Windscreen wipers, headlight aim,bulbs, top ups required to pass test. Also includes tyre pressure checks, Antifreeze, power steering fluid and engine oil check and top-ups.
EXCLUDES HIGH COST PARTS AND OILS
£55.00 NO VAT